XXL Smartphone
Interactive touch solutions
Retail, Showrooms, Museums, Hospitals, Libraries,  Reception rooms, Airports,  Events ….
Call us now
Standard in our range:
XXL Smartphone 32″, 42" or even 55" display format. A real eyecatcher, easy accessible by simple operation and a familiar android environment.
For standing or lying application. Convenient for working with several people at the same time.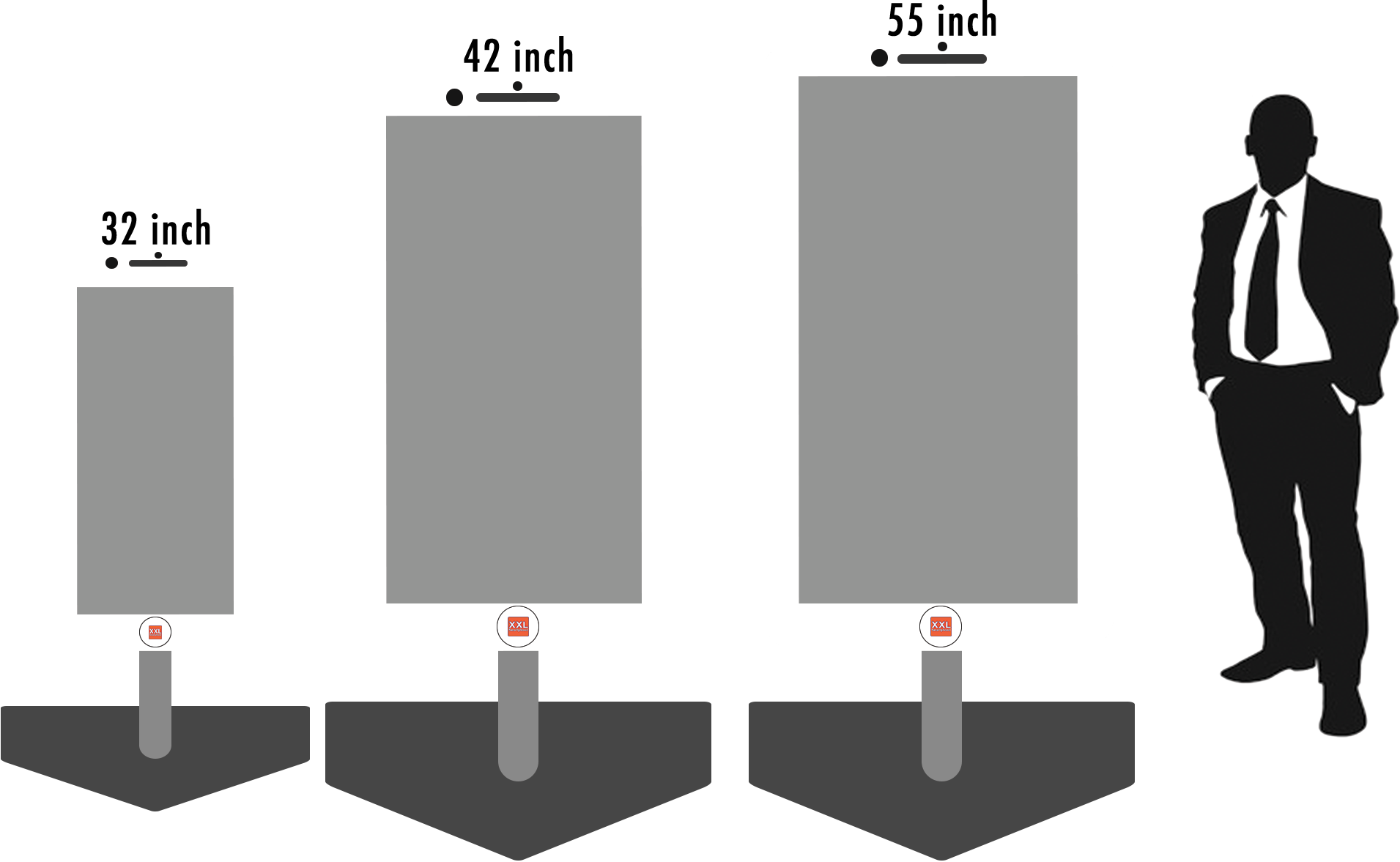 32 inch
32 inch
| | |
| --- | --- |
| Screen Size | 32″; 81,28cm |
| Aspect Ratio | 16 : 9 |
| Panel | AMVA+ LED |
| Native resolution | Full HD 1080p, 1920 x 1080 |
| Brightness | 250 cd/m2 with touch panel |
| Advanced contrast | 12 000 000 : 1 ACR |
| Response time | 5ms |
| Display colour | 16.7 million |
| Speaker | 3W single |
| Blue Light Reducer | yes |
| Touchtechnology | projective capacitive, multitouch (12 compatible touch points  |
| Touch Points | 12 |
| Orientation | Portrait or Landscape |
| Enclosure | Plastic |
| Stand | Steel/Plasitc |
| Operating System | Android |
| Warranty | 1 Year / 3 Years with Destic Support (Additional subscription) |
| Dimensions |  L 93cm x W 7cm x H 57.2cm |
42 inch
42 inch
Technical Specifications
| | |
| --- | --- |
| Screen Size | 42"; 106.5cm |
| Aspect Ratio | 16 : 9 |
| Panel | AMVA3 LED, AG coated glass |
| Native resolution | Full HD 1080p, 1920 x 1080 (2.1 megapixel) |
| Brightness | 400 cd/m2 typical |
| Brightness | 340 cd/m2 with touch panel |
| Static contrast | 3000 : 1 typical |
| Response time | 6.5ms |
| Display colour | 16.7 million |
| Touchtechnology | projective capacitive, multitouch (10 compatible touch points |
| Touch Points | 10 |
| Max. non-stop operating time | 12 hours/day |
| Anti-Glare coating | yes |
| Speakers | 2 x 7 W (Stereo) |
| Orientation | Portrait |
| Enclosure | Plastic |
| Stand | Steel |
| Warranty | 1 Year / 3 Years with Destic Support (additional subscription) |
| Dimensions | L 164cm x W 11cm x H 60.5cm |
| Operating System | Android |
55 inch
55 inch
Technical Specifications
| | |
| --- | --- |
| Screen Size | 55″; 138.8cm |
| Aspect Ratio | 16 : 9 |
| Panel | IPS LED, AG coated glass |
| Native resolution | Full HD 1080p, 1920 x 1080 (2.1 megapixel) |
| Brightness | 500 cd/m2 typical |
| Brightness | 420 cd/m2 with touch panel |
| Static contrast | 1100 : 1 typical |
| Response time | 12ms |
| Display colour | 16.7 million |
| Touchtechnology | projective capacitive, multitouch |
| Touch Points | 12 |
| Glass thickness | 5 mm |
| Max. non-stop operating time | 12 hours/day |
| Anti-Glare coating | yes |
| Speakers | 2 x 7 W (Stereo) |
| Orientation | Portrait |
| Enclosure | Plastic/Acrylic |
| Stand | Steel |
| Warranty | Screen 2 years RTB / Computer 2 years RTB |
| Dimensions | 114w x 235h x 58cm |